Like any good Document Management System, NetDocuments contains a Retention Policy feature that will allow the Repository Administrator to apply your firm's Document Retention Policies within NetDocuments to mark documents for permanent deletion, and even set those policies to run automatically.
The module is accessed from the ADMIN>REPOSITORY>"Define document retention policies" menu, from which the retention criteria can be defined.
Retention policies generally contain three criteria:
Document Profile Criteria - where you can establish a policy to only apply to documents that contain one or more Profile Attributes (i.e. Document Type = EMAIL). Alternatively, the asterisk can be used as a wildcard to establish all values from a profile attribute (i.e. Client = * )
Retention Period - to establish the chronological period that is used to calculate when a document falls under a retention policy (i.e. 7 years)
Triggering Event - used in conjunction with the Retention Period to begin the retention "countdown" (i.e. after Matter Closing Date). There are several built in options to this field that represent the most common retention triggers.
Below is an example of a simple retention policy that is used to purge documents for a matter 7 years after the matter has been marked as closed (note the use of wildcards so that the policy applies to all matters):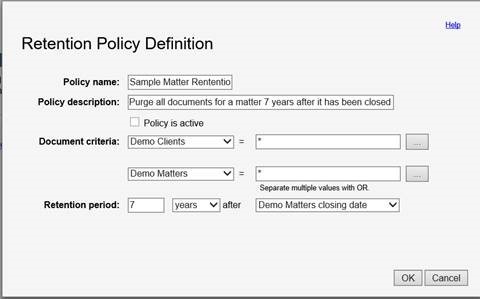 Here is another example of a retention policy that is used to purge all emails 5 years after the matter has been marked closed: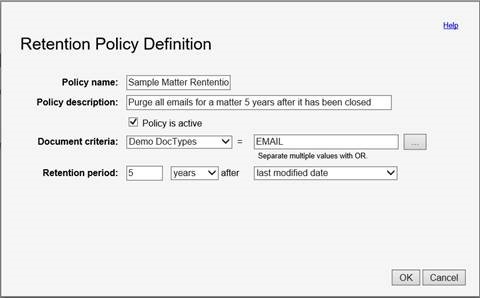 Note that a policy can be marked as active or inactive using the checkbox. Policies that are marked as active will be automatically run every 60 days and an email will be sent to the Repository Admin listing all documents that meet the retention policy. At the bottom of the email will be a link that is clicked to proceed with the policy (i.e. purge all documents listed in the email). At no time will NetDocuments automatically purge documents on a Retention Policy without requiring a Repository Admin confirmation.
For more information on Retention Policies, consult the support article at https://support.netdocuments.com/hc/en-us/articles/205220220-Document-Retention-Policies-Archive-, or for further advice and guidance please contact your Affinity NetDocuments team.