With EMS Profiler being sunseted in March of 2019, many firms who previously utilized the EMS functionalities to save email are investigating methods by which they can migrate away from this soon to be obsolete feature.

Prior to the end of EMS, NetDocuments had provided two additional modules within their ndOffice component that can help with the transition from EMS and provide greater functionality and flexibility in how electronic correspondence is managed and stored within the NetDocuments environment. Let's take a look at how using ndMail and ndSave can replace and exceed the previous EMS functionality.
Using ndSave
ndSave is an integral aspect of the ndOffice module. After installation of ndOffice on your workstation, you will notice that various NetDocuments specific buttons appear within your Office products in the save and open areas. The ndSave button provides you with the opportunity to save and profile email and versions directly from within the existing Outlook menus.

Users can even leverage the power of ndOffice and ndSave to create default and standard saving profiles to further reduce the amount of clicks required to quickly and efficiently integrate work-product into NetDocuments.
Using ndMail
As most of us spend a large portion of our work days managing email, ndMail provides the ultimate link between NetDocuments and our chosen communication method of electronic correspondence. Once installed, ndMail provides a dynamic interface within Outlook, consisting of context and ribbon buttons that allow users to easily profile and save emails and attachments within NetDocuments, all while never leaving your comfortable Outlook UI. In fact, the ndMail feature is so advanced, it utilizes Machine Learning Algorithms that provide users with predictive saving features and that provide confidence scores for each message as to which NetDocuments matter or workspace is its ultimate destination within the system.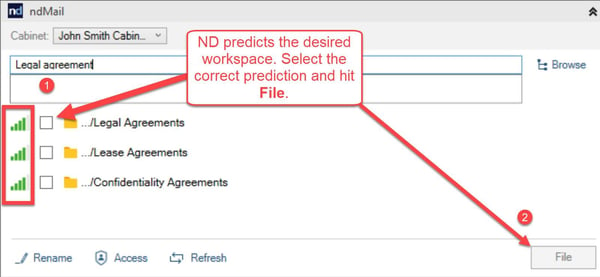 If you are interested in additional information about any aspect of ndOffice, ndSave, and/or ndMail, please contact us. One of our consultants will be happy to provide more information and demonstrations of these exciting NetDocuments functions and how we can assist in moving you successfully away from EMS. Just call us at 877-676-5492, or request a consultation.