So many of us struggle with juggling emails while working efficiently and properly filing emails in NetDocuments! The fix is here!
ndMail is an optional add-on module that enhances the email filing experience from Microsoft Outlook by drastically reducing the time and effort required to save email messages into the NetDocuments DMS.
Core to the application is the predictive email filing component which uses complex algorithms to determine which matter each email message in your inbox should be filed against based on the sender, recipient, subject and content from the actual message.
As a user highlights an email message in Outlook, the integrated ndMail panel will display suggested matters that it has determined may be appropriate for that email. They are listed in order based on the its "confidence" of fit. The user can then make the decision to accept, override or ignore the suggested destinations.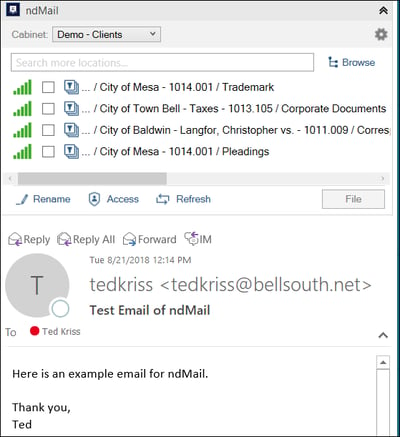 Most importantly, ndMail "learns" each time a user in your firm files an email with ndMail, which significantly increases the accuracy of suggested destinations over time across the entire firm.
ndMail also provides an email de-duplication service during the email saving process, as it reviews each message and instantly notifies the user if that email has already been saved into the system previously by anybody else at your firm.

Another key feature of ndMail is the feature known as "linked folders" which allows a user to easily link any Mailbox Folder in Outlook with a workspace in NetDocuments, automatically saving any messages within that folder directly into NetDocuments. Going forward, users can simply drag and drop Outlook messages into the linked folder to file emails into NetDocuments while still preserving the contents and structure of their mailbox folders.
At only $20 per month, the ndMail module is a "must have" for any firm using Microsoft Outlook with NetDocuments. Please reach out to info@affinityconslting.com for a full demonstration or a consultation on deploying the ndMail module.