Clients are often faced with the challenge of keeping versions of document groups together after they are created, through their life cycle. In the past, prior to legal electronic content management systems, documents were traditionally saved as numerous files with a name that would contain an additional reference to making it unique.
For example, let's look a document named "VERSIONING SAMPLE Marital Property Agreement" created using the New vs. Old methods.
OLD Method
Documents grow into a list that out of control and changes cannot be easily referenced in the document name. Also, if someone names the document something like "Paul's edits to Marital Property Agreement," then the document would get lost in the list because it is now found higher in the list under "P" because the list is sorted alphabetically.
NEW Method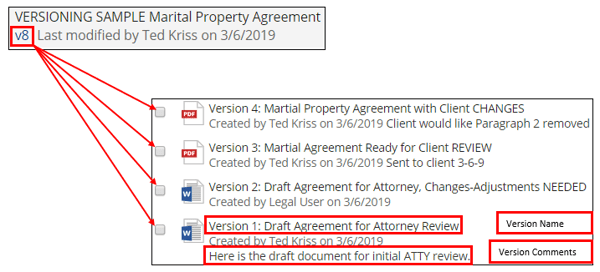 Above we see that in NetDocuments we can leverage the version name to provide a high-level description. In addition, we can also utilize the Comment field to capture additional details. Someone looking for a document in this list can easily identify which version they need to open. Also, it is incredibly useful to be able to link documents with different document types (i.e. a PDF version of the MS Word document). This gives you a true picture of the document workflow and history, rarely seen with this level of detail.
For more information about Version 2.5 for ndOffice or legal document management in general, just contact us at info@affinityconsulting.com or request a consultation.