As you may have heard by now, World Software Corporation announced a major software update, WDU14.This release now includes features that were historically part of an add-on module called Productivity Suite that used to cost firms more than $100.00 extra per user. Two valuable features included in the WDU14 update are Tasks and Notify.
It is recommended that if you are using Worldox GX4 code dated December 15, 2018 or before that you contact your firm's Worldox reseller for assistance with updating your version of Worldox to the latest WDU14 release. Due to the WDU10 release from June 12, 2018 when Indexer as a Service (IAAS) was introduced, expert knowledge of Worldox and Active Directory set up are required.
If you are currently using Worldox code dated June 12, 2018 or newer, you are able to simply update your Worldox following the normal best practices laid out by World Software to start taking advantage of WDU14.
The newly-available Tasks function allows users to select a document and create a task related to the document. The newly-created Task will appear in Microsoft Outlook. As an example, you have a UCC Financing Statement that expires in 5 years, so you want to create a task with a reminder 60 days before the expiration date to re-draft and re-file. As another example, you draft a Motion for Summary Judgment, but you don't want to file it for 30 days. Create a task to file it in 30 days, and add a reminder in 14 days at 10 am to review it: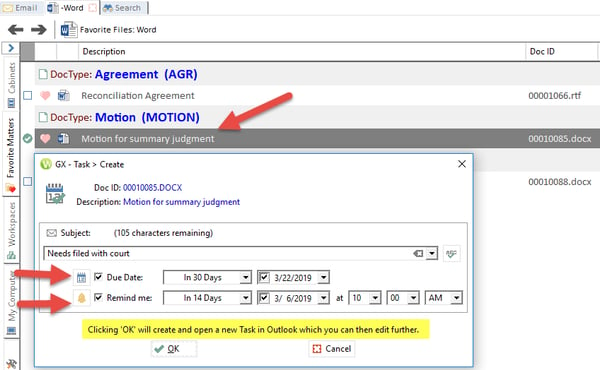 The newly-available Notify function allows you to be notified when other users edit a document, or when other users save documents into matter.
To take full advantage of Tasks and Notify that come with WDU14, contact your reseller or consultant to obtain training on the new features that are now available to you. This can be accomplished in as little as 30-60 minutes -- a great Lunch and Learn opportunity for your team!
Besides Tasks and Notify, there are a few other important fixes and patches released between WDU10 and WDU14. Below is a quick bullet list of some of those larger fixes. This is by no means a complete list.
Synchronize a single ethical wall rather than syncing the entire list of ethical walls. This is a big time-saver in firms with a large number of users.
Import user email addresses along with their other information when setting up users via the import mode.
Display names that contain email addresses are now accepted if you're trying to keep logins or display names consistent.
Managers can now set global styles and views that can be pushed to all users, allowing you to set a default look in Worldox for all end-users to start with, including specific columns and sort orders.