A Primer on Deleting Documents in Worldox
Through her bestselling book The Life Changing Magic of Tidying Up and more recently a new Netflix series Tidying up with Marie Kondo, Japanese organizational enthusiast and best-selling author Marie Kondo has over the past several years introduced the world to a method of decluttering and organization. Her KonMari method is predicated on removing items from your life that no longer "spark joy" and chucking them in the bin. Although this can be a fun and zesty enterprise for those working to maximize space in a small abode or office, in the context of Document Management, deletion is anathema, regardless of how much joy said document may or may not spark in you. If, however, you find yourself in need of deleting a document from Worldox, the program has a few options to offer, which we will examine below.
The Delete Button:
If one observes the toolbar at the top of the Worldox Desktop view, one cannot miss the prominent red "X" that looms at the center of the icons. When this button is clicked, you are presented with (potentially) 3 options: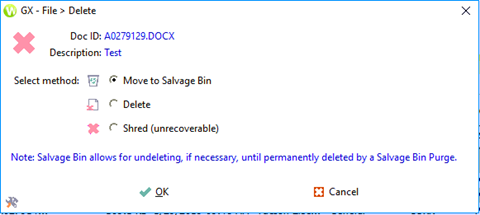 Move to Salvage Bin:
The eagle-eyed readers among you will notice a line of blue informational text that spoils the information I'm about to deliver, but nonetheless, we persist for the less observant. By selecting this option, the item in question, rather than being summarily blinked out of existence is instead moved to the electronic Purgatory of the Salvage Bin. What this means for users: the item is removed from Worldox. Items in the Salvage Bin are recoverable until the Salvage Bin is purged, either manually from the Worldox Administration Console or during a scheduled purge operation on the Worldox Indexer. Those users granted access to the Salvage Bin can still locate and "undelete" these items, after which they are restored to their previous location with Profile Metadata still intact. Our best practice recommendation is that most users have "Move to Salvage Bin" as their only option for reasons to be made apparent in the following sections.
Delete:
This function operates as if you have performed a traditional Windows file deletion. The file is potentially recoverable by way of Windows file recovery methods. However the existing Worldox profile metadata will be lost. Out best practices dictate that this item be visible to only Worldox Administrators.
Shred:
Like the father of modern professional skateboarding, Tony Hawk, Worldox also shreds. Unlike Mr. Hawk, Worldox doesn't execute feats of extreme athletic prowess on the half-pipe. Instead, this Shred function not only deletes the file and the associated Metadata, it also performs a series of overwrite functions to make the document unrecoverable... the most extreme deletion. As the "(unrecoverable)" implies, this is finality. We strongly recommend that this option be limited to only the most responsible members of your organization.
If you have any questions about the types of deletion available in Worldox, professional skateboarding or any functions and features provided by Worldox, just send us an email at info@affinityconsulting.com or request a consultation. You can also call us at 877-676-5492.