NetDocuments, the leading cloud content management platform where legal professionals do work, announced Affinity Consulting Group as the Inspire 2021 Corporate Law Partner of the Year.

NetDocuments' second annual Partner Awards recognize leading companies spanning the ISV network, implementation providers, international partner companies in Asia Pacific, EMEA, and Latin America, as well as partners across all NetDocuments business segments.
Affinity Consulting Group was specifically recognized for our commitment to excellence aligned with the corporate team at NetDocuments, leading the way in sourced business while delivering exceptional implementation services to our clients.
"This award is a testament to the hard work and level of excellence that the Affinity DMS Team brings to every one of our NetDocuments implementations," said Affinity Director of Document Management Gregory Bray. "I'm so proud to be part of such an amazing team - all dedicated to delighting our clients."
Affinity Partner Ron Warman added, "It is extremely rewarding to be recognized for our efforts to empower legal departments and corporate clients. These are some of the most creative teams that have been making do without true enterprise tools. NetDocuments has truly changed the game for them and unlocked their full potential to excel."
Inspire 2021 is a virtual global conference designed for NetDocuments customers and partners. Tailored product and educational sessions; customer and partner case studies and innovation; and subject matter expertise are on display to showcase intentional innovation – innovation you can depend on and that's inspired by legal teams around the world.
"The NetDocuments partner ecosystem has always been an integral part of our annual educational conference, and this holds true for Inspire 2021," said Reza Parsia, VP, Strategic Partnerships, NetDocuments. "Our partners are constantly pushing the envelope to innovate and help our customers get the most out of their NetDocuments platform experience. Our second annual Partner Awards rewards this drive for 'intentional innovation' and honors the 'Partner of the Year' across eight categories."
The 2021 Inspire Award Winners, including all Partners of the Year, can be found online at www.netdocuments.com/inspire after 11/5/2021.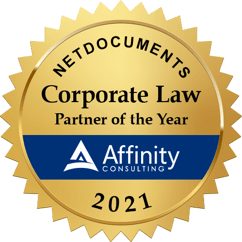 About Affinity Consulting Group
The legal industry lives and dies by documents. Thousands of law firms and legal departments rely on Affinity Consulting Group to help. At Affinity, we inspire, enable, and empower legal teams of all sizes to work smarter with their documents. Whether it's document management, document creation, and automation, or even managing email and workflow around documents, our holistic approach incorporates people, process, and technology. Our passionate, well-connected industry experts work hand in hand with you to help you better understand and optimize all aspects of your document strategy — from selecting your software to migrating your data, and everything in between. Our vast network of partners and deep industry expertise ensure that we can deliver cost-effective, custom-tailored solutions to even your toughest document challenges. Please visit our website to learn more!
About NetDocuments
Founded in 1999, with more than 3,400+ enterprise customers worldwide, NetDocuments is the legal industry's most trusted cloud-based content services and productivity platform. Complete with state-of-the-art built-in security, compliance, and governance solutions, NetDocuments offers document management, email management, and collaboration technology complete with disaster recovery, enterprise search, and matter-centricity features. For more information about NetDocuments, please click here.