NetDocuments, the leading cloud content management platform where legal professionals do work, announced Affinity Consulting Group as the winner of its inaugural Hackathon focused on combining the power of NetDocuments and Microsoft Power Automate to create new legal solutions on the NetDocuments platform.

Initial NetDocuments Hackathon registration included 23 teams consisting of seven partners and 16 customers. After a six-week contest, 14 teams submitted solutions to a judges panel including NetDocuments product experts and Alan Gibson, Director of Legal & Compliance Innovation at Microsoft. Finalists and the top winning solution were announced as part of the Inspire 2021, a virtual global conference designed for NetDocuments customers and partners.
On behalf of the top 5 winning hackathon teams, NetDocuments will contribute $15K to charity in the U.S. and Australia. Affinity has selected for our $8,000 portion of the prize to go to The Lift Garage. The Lift Garage is a Minnesota charity dedicated to helping people of limited means to move out of poverty and homelessness by providing low-cost car repair, free pre-purchase car inspections, and honest advice that supports their community on the road to more secure lives.
The submitted solutions demonstrate how NetDocuments and the Microsoft Power Automate no-code workflow ecosystem can work seamlessly, together, to solve a wide variety of real-world problems.
Specifically, the Affinity "Team Binary Beasts" created a retention policy automation solution that harnesses the power and flexibility of saved searches and advanced searching and can incorporate additional criteria to build a customized solution. Their solution streamlines and customizes document retention compliance by utilizing NetDocuments tools that users are already familiar with and applying them in new ways. Flexible retention policies will assist Affinity and NetDocuments clients with the ability to remain compliant with regulations, keep data easily accessible and safe, while properly disposing of information that reduces their digital footprint and risk.
"I am honored to be on the award-winning team! Our team started the hackathon contest with a great idea, driven by a real customer need," said Russell Duncan, Senior Consultant and Team Captain. "The NetDocuments power automate connectors allowed us to easily automate administrative tasks, and leverage the powerful search capabilities of NetDocuments. Our team worked creatively to design the flow in a way that was scalable and easy to manage. Now the sky is the limit!"
Inspire 2021 is a virtual global conference designed for NetDocuments customers and partners. Tailored product and educational sessions; customer and partner case studies and innovation; and subject matter expertise are on display to showcase intentional innovation – innovation you can depend on and that's inspired by legal teams around the world.
"We are thrilled to show off the power of the NetDocuments platform in combination with Microsoft Power Automate and showcase solutions conceived and engineered by our very own customers and strategic business partners," said Mike Sanders, Senior Solutions Expert at NetDocuments and originator of the NetDocuments Hackathon. "Beyond recognizing the winners, we'd like to thank all teams that submitted their own solution and look forward to more openly sharing all the innovations featured this week."
The 2021 Inspire Award Winners, including all NetDocuments Hackathon winners, can be found online at www.netdocuments.com/inspire after 11/5/2021.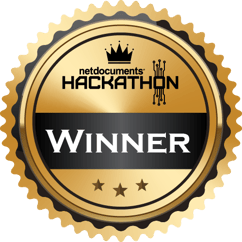 About Affinity Consulting Group
The legal industry lives and dies by documents. Thousands of law firms and legal departments rely on Affinity Consulting Group to help. At Affinity, we inspire, enable, and empower legal teams of all sizes to work smarter with their documents. Whether it's document management, document creation, and automation, or even managing email and workflow around documents, our holistic approach incorporates people, process, and technology. Our passionate, well-connected industry experts work hand in hand with you to help you better understand and optimize all aspects of your document strategy — from selecting your software to migrating your data, and everything in between. Our vast network of partners and deep industry expertise ensure that we can deliver cost-effective, custom-tailored solutions to even your toughest document challenges. Please visit our website to learn more!
About NetDocuments
Founded in 1999, with more than 3,400+ enterprise customers worldwide, NetDocuments is the legal industry's most trusted cloud-based content services and productivity platform. Complete with state-of-the-art built-in security, compliance, and governance solutions, NetDocuments offers document management, email management, and collaboration technology complete with disaster recovery, enterprise search, and matter-centricity features. For more information about NetDocuments, please click here.