Training. Everyone wants to do more of it, but finding the time and the resources to develop a plan (AND to execute on that plan) takes way more time than you have and costs way more money than you want to spend.
We know – we have led training in thousands of law firms across the country. And we have done training every way imaginable – group webinars, 1-1 training remotely, in-person classroom style, in-person 1-1, in increments of 15 minutes all the way to full days of training. We know what works, and more importantly, we know what doesn't work. There are so many challenges around training in a law firm that we published an e-book about it – and then we developed a solution that is guaranteed to work for YOUR FIRM. In fact, if you don't like it – just tell us and you get your money back. I know that sounds cheesy, but we are so confident that it will make a difference in your firm, and that we have just the right mix of what it takes to make training efficient AND effective in your firm, that we want to make it a NO-RISK offer. If you want to know more…keep on reading.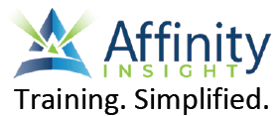 I am so excited to announce our BRAND NEW solution to the training challenges faced by law firms everywhere. Affinity Insight is the "easy" button that you have been waiting for when it comes to a top-quality training program.
After training and consulting for thousands of law firms over the last 20 years, and interviewing over 10,000 law firm employees, we know that most law firms lack effective training. It is the number one request we get in our interviews – people want more training. Your team members spend an average of 4-6 hours in Microsoft Word, Outlook and Excel every day, and most of them are not using those tools as effectively as they could be.
There is a caveat though – they want training in lots of different ways. They want it on demand. They want cheat sheets. They want manuals. They want it live and more formal. They want it on the programs they use every day. They want the training to be very topical (like…How do I create a Table of Contents? How do I properly redact? Give me 10 tips on how to better manage my email. What does a legal professional NEED to know about Excel? Why does Word keep screwing up my outline numbering? How do I insert video into a PowerPoint presentation?), and they would love training on other topics such as leading a team, effectively communicating, reducing paper, cybersecurity, and more.
So, our challenge was coming up with a way to offer exactly what people were asking for and what law firms need. How did we do it?
Affinity Insight is a subscription membership program with 3 levels of membership available – Standard, Plus and Premium. The plans are based upon the level of service - not on the number of users in a firm. Yes, you read that right. As part of our introductory offer, the price is the same if you have 3 users, 30 users, or 300 users.
The Standard Plan includes Affinity University and Course Manager, our on-demand training platform where you can assign courses to your users and track their progress. And new courses are being added to Affinity University every month. Many of those courses have been requested by our members!
The next level is the Plus Plan. In addition to what is included in the Standard plan, it adds all Affinity Manuals (see the list here) and a minimum of 24 Virtual live training session on all the software products that your team uses every day (there are already 33 VPHs scheduled in 2020 – you can see the list here and dates/times for Feb/March are listed below). Virtual live training sessions with an opportunity for Q&A, scheduled out 12 months at a time. What if you can't attend live? No worries, the VPHs will be made available to watch after the live training happens.
The Premium Plan includes everything in the Standard and Plus Plans as well as six customized Lunch and Learns for just your firm, on the topics you choose. We also work with you to create a customized Training Plan and Onboarding Plan and host a personal Quarterly Training Review with an Affinity Training Expert.
And we have even more coming in 2020. Our Insight Members will get early access to some really exciting stuff you will not want to miss!
If you are ready to upgrade your training and provide tools to your team that will absolutely make them more efficient, we are ready to help. So often training is viewed as a one-time event – and we want to help you build a culture of training at your firm. How do you get started?
If you are ready to go, sign up here: https://www.affinityconsulting.com/insight/
If you have more questions, please email insight@affinityconsulting.com and we would be more than happy to answer those questions!
January/February live training session Topics/Dates/Times:
Customizing Microsoft Word – January 8th at 2PM ET
Bonus: Adobe Acrobat – January 15th at 2PM ET
Outlook Email Management – January 22nd at 2PM ET
Bonus: Kofax/Nuance Power PDF – February 5th at 2PM ET
Microsoft Word – Inserting and Finding Content – February 12th at 2PM ET
Excel – Data Dive – February 26th at 2PM ET