As we're now settling into a new working from home workflow, firms are now turning to software that enables the workforce to collaborate effectively without having to miss walking down the hall to find their colleagues. Of course, there are plenty of platforms out there that allows organizations to achieve parts of this goal: Slack, GoToMeeting, Zoom, Google Hangouts, and Microsoft Teams. The uptick trend is shifting to Microsoft's O365 platform which allows organizations to utilize the complimentary Microsoft Teams to achieve that collaboration effort. But did you know that NetDocuments has its own collaborative suite?

ndThread is NetDocuments' very own matter-centric (one of several) collaboration tools that allow you to communicate securely with internal and external users while keeping notes, chats, and documents all organized in each workspace securely. NetDocuments has taken it one step further and enhanced ndThread with ChatLink – a package that brings the NetDocuments world into your Microsoft Teams interface so that you can collaborate with your colleagues and have secure access to your documents at the same time.

The ChatLink feature within MS Teams is simple and slick. You can bring in a simplified workspace view of your documents into a Team's channel to keep your chats and documents all centralized in one area for your teammates to access without having to navigate between multiple desktop windows. NetDocuments' Chatlink also allows you to bring in the full web version into the channel's tab or a condensed version.
Full version of NetDocs workspace inside MS Teams channel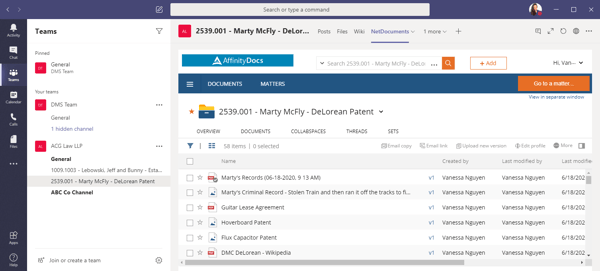 Condensed (Restricted) version of NetDocs workspace inside MS Teams channel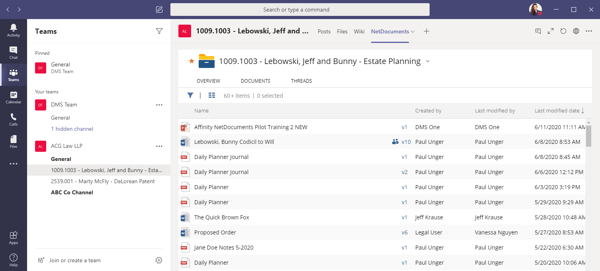 As an ndThread subscriber, you can integrate the workspace Thread into your channel and continue to communicate securely under the NetDocuments security umbrella, bringing in all the matter-centric discussions and documents to collaborate back and forth whether it's a member within your organization or a user outside of your walls.
NetDocuments ndThread inside an MS Teams channel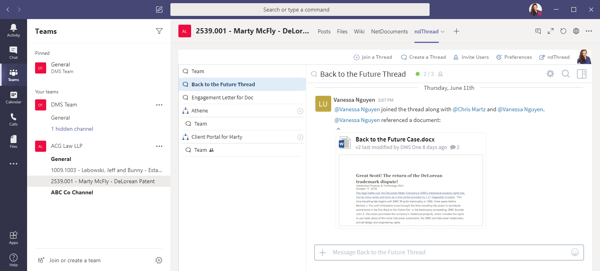 Accessibility to ChatLink is complimentary if you're already subscribed to ndThread. Administrators can quickly install the custom package into MS Teams and get setup within minutes.
As with all NetDocuments applications, they're always ever evolving with enhancements and adapting to users' experiences. Hopefully down the road, we'll see some more interlaced functions such as having Teams integrated within NetDocuments' user interface and maybe even having their robust searching capabilities to expand their searches to crawl through MS Teams chats. But as we're also evolving and adapting to the new world changes, NetDocuments' ChatLink helps Teams stay matter-centric and organized.
If you have any questions about ndThread or integrating your NetDocuments with MS Teams, we're here to help! Contact the Document Management Team at Affinity by calling 877-676-5492, or simply request a consultation.