In mid-January, Software Technology, LLC announced the members of the 2019 President's Circle for Tabs3 Software. President's Circle members are selected annually based on their expertise with Tabs3 Software, their strong client relationships, and their sales.
"Congratulations to Affinity Consulting Group and all 2019 President's Circle members," said Dan Berlin, President and CEO of Software Technology, LLC. "Members of the Tabs3 President's Circle work hard to understand the needs of their clients, and offer appropriate solutions to problems. Proficiency in Tabs3 software is essential, but these individuals also bring a working knowledge of all technology applicable to a modern law practice, making them an indispensable asset to their clients. We appreciate their continued contributions to helping Tabs3 users get the most out of technology in their offices, and we are proud of all that these consultants have accomplished this past year."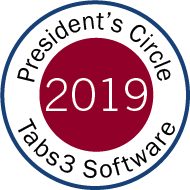 Affinity Consulting was selected as winner of three outstanding awards for 2019:
PracticeMaster Consultant of the Year
Platinum Consultant of the Year
Overall Consultant of the Year
Affinity Partner Britt Lorish accepted the awards on behalf of Affinity's Time, Billing and Accounting Team. "We are always delighted to be selected for such prestigious recognition of our hard work. It means that we are providing the best care and service possible to our clients," Britt said. "That's the most important part of this acknowledgement for us."
To find out more about Tabs3 and the other great products by Software Technology, LLC, contact info@affinityconsulting.com.
About Software Technology, LLC.
Software Technology, LLC is a leading provider of legal software in the United States with 40 years of experience and more than 100,000 active legal professionals using its products. Their three product lines, Tabs3, Kurent, and CosmoLex, offer billing, accounting, and practice management features for solo to midsized law firms in both cloud and desktop environments.