So you carried home your monitor, set up your laptop and you're officially working remotely. Now what?! On any given day – until recently! – nearly 80% of the Affinity team works remotely, employing work-from-anywhere tactics to meet the demand of our clients across the U.S., Canada and the Caribbean. With so much collective experience, we thought we'd share with you the lessons we've learned over the past 20 years.
Join us for a pop-up webinar - Q&A Townhall with Affinity Experts-Working Remotely - and ask questions of an Affinity panel of work-from-anywhere experts led by Affinity Managing Partner Debbie Foster. In a quick, interactive session, we'll be answering your questions and sharing a few tips and tricks to help make you as productive as possible in your New Normal.
We also asked everyone at Affinity how they make it work. Take a look at our favorite tips to make your remote home office as productive as possible!
"It starts with designating a work area to create clear separation of home and work. This gives you some sense of the barrier you typically get from going to the office. It also allows you to set boundaries with the kids so they understand there is no barging into the office, at least between 8:30 AM and 5:30 PM." Ron Warman, Partner
"If your house is super quiet, I recommend putting on music or something in the background - otherwise you hear weird noises throughout the house all day and have to go investigate." Kevin Wade, DMS and Default Services Consultant
"Pick up the phone and call your co-workers. If they are available and you are available, consider the phone call over the email. Human contact is so very important during this time." Stacy Devlin, Director of Client Success
"Make your workstation comfortable, organized, and stress-free. Don't work on the couch in front of the TV!" Russell Duncan, DMS Senior Consultant
"Use webcams as often as possible to feel connected to others and not isolated." Beth Thompson, Director of Client Engagement
"Attend to your workspace first thing each morning—make sure it's clean, tidy, peaceful, and conducive to focus—and then close your door. The laundry and the dishes will still be there at 5:00, and they'll provide you with the perfect way to disconnect from work at the end of the day." Kelly Judd, Director of Marketing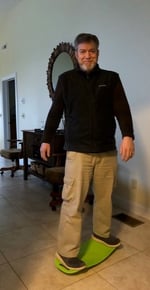 "Move a little! Get the blood flowing…get on the board and twist!" Robin Bizzigotti, YourBooks Consultant
"Find a place to work with a door – tell anyone else that when the sign (or whatever you use) is on the door, they have to wait. Then tell them that, barring any unforeseen reasons, you will come out to check on them at least once an hour." Jeff Stouse, Practice Management Senior Consultant
"Go for a walk sometime during the day – smell the air, squint at the sun, smile." Gregory Bray, Director of Document Management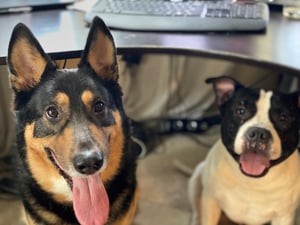 "Bring your dog to work day? No need. My fur buddy just loves laying under my desk while I'm working." Vanessa Nguyen, Client Relationship Manager
"Keep your morning routine the same – breakfast (whatever that is for you), shower and get dressed for work and then log in as if you were in the office." Steve Best, Partner
"Always take a lunch break – go out to eat, go eat outside, go walk the dog – anything to get yourself out of the house for a bit. It's a good reset!" Sara Shew, Client Relationship Manager
"Make yourself a Daily Road Map and follow the Not To Do list." Paul Unger, Partner
"Don't video conference unless you're ready for it. Just because you can work in your pajamas doesn't mean you can video conference in them." John Federico, Document Automation Senior Consultant
If you're struggling with the new normal challenges of working remotely, or if you just want to gather some new remote working hacks to add your existing routine, join us for a Q&A Townhall - Working Remotely webinar on March 24th. It will be a lot like 60 Tips and Tricks in 60 Minutes with some of your favorite Affinity experts on our panel to answer all of your questions about working remotely.
Still have questions about working remotely? Or maybe you just want to connect with an expert at Affinity? Contact us at 877-676-5492, or request a consultation.