NetDocuments includes powerful integration with Office 365 including integration with the online versions of Word, Excel and PowerPoint. This integration includes the ability to edit documents in the online versions of these Office applications as well as collaborate on documents in real time.
If you have Office 365, you already have access to this integration. The integration is enabled by default for every NetDocuments. It is possible to disable this integration, so if anything described in this article does not work for you, please ask your NetDocuments admin to check whether online editing has been disabled for the cabinet.
Please note, the examples in this article will be from Word Online but are also possible in Excel or PowerPoint Online.
Creating a New Document
To create a new document and begin working on it in Word Online, select the orange +Add icon in NetDocuments. When the menu appears select Blank Document. The Create a New Document dialog that appears will default to your current location in NetDocuments, so it is not a bad idea to first navigate to the workspace or folder where you want the new document to reside.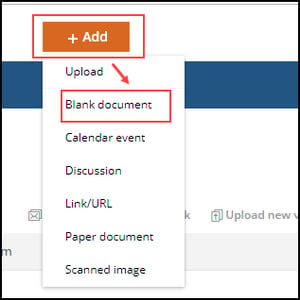 Type a name for the new document, then select Word Online (.docx) as the document format. Once you have verified the location, click OK. The document is created and saved to NetDocuments. A few moments later it will open in Word Online. If you have not used Word Online recently, you may be prompted for your Office 365 login so have that handy.
Once the document is open, you can begin making changes to it.
Editing an Existing Document
Word Online has most of the features found in the desktop version of Word although the menus and ribbons are simplified. Most editing and formatting is performed in a way that is identical to working in Word on your desktop.
One benefit to using Word Online with NetDocuments is that your changes are saved immediately. As you are working, you will see "Saving..." at the top of the screen. Periodically, especially when you stop typing for a bit, this will change to "Saved to NetDocuments." This indicates that your changes have been saved to NetDocuments. In addition, you should see "NetDocuments - Save and close" in the upper left of the Word Online window. When you are finished editing, simply click this to save any remaining changes and return to NetDocuments.
After you save and close the document, you can always edit it further. In fact, you can edit any .docx formatted document online even if it was not created in Word Online. To do so, right mouse click on the document name and select Open In > Microsoft Word Online. Of course, a normal mouse click opens the document in the desktop version of Word. To use Word Online, you must use a right click and select it from the menu of choices.

Co-Editing a Document
One very useful feature of Word Online is the ability for more than one person to work on a document simultaneously. As one person makes changes to the document, the other person sees those changes immediately along with an indication of who is making the edits. I am actually drafting this article on my desktop and watching my edits appear in real time on my laptop.
You can access the co-editing functionality directly from NetDocuments. The first person to open the document must select Open In > Microsoft Word Online. Each subsequent person must select Open In > Microsoft Word Online (Co-Edit). Changes by any editor are saved immediately. When working in co-editing mode, the person making each change is indicated by a colored symbol. This symbol disappears when that person selects NetDocuments – Save and close.
Conclusion
The ability to edit documents in the online versions of Word, Excel and PowerPoint opens a lot of possibilities beyond simultaneous editing. A user could, for example, work on a document at a computer where they do not have the Office desktop applications installed. In addition, this functionality works in an identical fashion on a Mac, meaning users on different platforms can collaborate in real time. If you haven't taken a look at this functionality or have not looked at it in a while, try it and explore some of these possibilities.
For more information about working in Microsoft Office 365 applications or any of the other features of NetDocuments, we are always happy to help. Just contact the NetDocuments Team at Affinity any time by calling 877-676-5492, or simply request a consultation.