Elevate is an annual conference where NetDocuments brings together customers, prospects, partners, and their team to share all things NetDocuments.
It is typically hosted at a scenic location in Utah, with the specific location changing periodically to accommodate the year-over-year growth in attendance. This year didn't have just one new location; it had thousands of new sites as attendees participated virtually from their homes, offices, or anywhere else they could escape their children while still having an internet connection. OK, maybe that last part was just me, but Elevate did bring an international flavor with worldwide attendance and a mix of regional and global sessions.
While very different from past conferences, NetDocuments continued several traditions that we look forward to each year. It started with the conference theme, "Inspiration for the Next Decade." Many stories were shared throughout the conference demonstrating how NetDocuments, along with its customers, partners and staff, have lived by the "Work Inspired" mantra to make the best of a complicated time professionally and personally. How they demonstrated that theme was a bit different. They provided info on a new scholarship program, shared stories from the people of NetDocuments on what giving back means to them and conducted multiple live chats with the executive team to allow for open conversation. It was a refreshing experience, to say the least.
Josh Baxter, CEO, delivered an executive overview with the typical talk of impressive new customers and revenue growth. Stats shared by Josh and others included:
Approaching 11 billion files stored securely within the platform
Over 2.8k customers
Over 300 customers implemented globally in the last 12 months
Over 45 new ISV's since start of 2020, many in APAC and EMEA
All of this growth occurred with the platform having the best uptime in the history of NetDocuments!
Josh also shared that NetDocuments has achieved FedRAMP Ready designation, one of only 28 vendors to currently have that designation and the only legal-specific DMS. What really caught my attention was Josh's focus on the changing mindset of asking "why" and finding new purpose so we can all rise to the new challenges we face. This set the personal tone of the conference.
Alvin Tedjamulia, CTO, once again demonstrated his brilliance by relating coins of the world to the NetDocuments platform. He carried a subtle theme of unity throughout, reminding us that we are stronger together. As every coin has two sides, NetDocuments has the power of its platform on one side that enables the varied tools within the solutions they offer on the other. That platform has allowed them to deliver 50 or so commitments since Elevate 2019. Alvin also taught us a valuable lesson in coin flipping percentages, but I won't share that if you missed it! Do you want to make a wager?
Claudia Reese, VP of Human Resources, and Liz Benegas, General Counsel, were joined by other female leaders in the industry to discuss the challenges facing women in leadership positions. The takeaway: It has never been more challenging to set boundaries between home and work. The mental impact cannot be ignored. One panelist noted that she no longer sets unrealistic expectations of appearing perfect and always has things under control. We just need to be real. Another panelist summarized by saying it was time to "let the grey hairs go!"
Elevate 2020 provided more product news than I can do justice in a single article but trust that it was inspiring to go along with the theme. Look for future articles focusing on the various solutions. Elevate 2020 was also inspiring as a vendor to be allowed to share our stories. We were able to deliver a fireside chat telling of the successes of various customers. We contributed to (4) power hour sessions providing insight into the superheroes of Affinity and the NetDocuments tools they rely on most. And, the ultimate acknowledgment was receiving both the Implementation Partner of the Year and the Strategic Law Worldwide Partner of the Year awards for 2020.
Reflecting on the conference a couple of weeks later, it was an impressive event even if it was virtual. Engagement is always tricky in a virtual setting, but the passion of the NetDocuments team came through. We were truly inspired and walked away with a refreshed perspective on what we do and why. We look forward to next year's conference, appropriately rebranded Inspire 2021!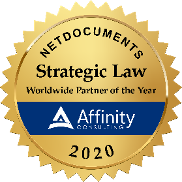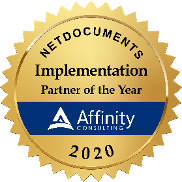 For more insights on Elevate 2020 and where NetDocuments inspiration is taking the document management world, reach out to the Document Management Team at Affinity by calling 877-676-5492, or simply request a consultation. We are always happy to talk to you about your firm's needs and the best tools to meet them.