Here at Affinity, we like to coach our clients into making the most of the software and systems they already own. We would all likely agree that the Microsoft 365 subscription service that 25 million offices around the world use every day is possibly one of the most underutilized services out there! 
Of particular interest to the Affinity Document Management team is the SharePoint Online service that is included with most Business and Enterprise Microsoft 365 subscriptions. It's essentially a big blob of secure Azure cloud storage available for your firm to use (if you only knew how), beginning at 1 Terabyte per firm, with an additional 10GB per user license.

So, the challenge for IT is what exactly to do with this SharePoint Online storage (SPO), as it's essentially a "build your own" content service that allows for totally unstructured storage. Indeed, a colleague of mine once likened the experience of storing documents within SPO as "...like printing out a document and then throwing it on the floor, with the hope that you'll trip on it later if needed...". Unstructured storage for a law firm or legal department trying to manage case or matter-related documents is a disaster waiting to happen.

However, if you add a layer of structure to SPO that mimics the case/client/matter/project organization of your work product, then build in ethical walls and sprinkle in some add-on utilities to integrate with your desktop applications (Word, Excel, PowerPoint, Outlook, Acrobat, etc.), you now have a powerful cloud document management system that offers an experience that is similar to what you get from legal DMS solutions like NetDocuments, Worldox, and iManage.

Affinity has been watching the successes of companies around the world over the last decade as they have attempted to use this new SPO–based DMS model, and we've seen some solutions evolve to accommodate the matter-centric structure that is unique to the law office and legal department DMS solutions.

Affinity has partnered with leading SPO application provider, Epona, to provide a legal-focused document management solution built with your current Microsoft 365 subscription. Epona will allow your SPO site to be linked to your existing legal software (often your time, billing & accounting software, or practice management software) to provision a matter structure that is accessible throughout all of your desktop applications and is fully searchable. Epona is particularly appealing if you find that you do not need all of the bells and whistles offered by a traditional DMS provider but are still looking to move your documents into a centralized cloud repository while reducing costs.

Epona's Full-Text Search: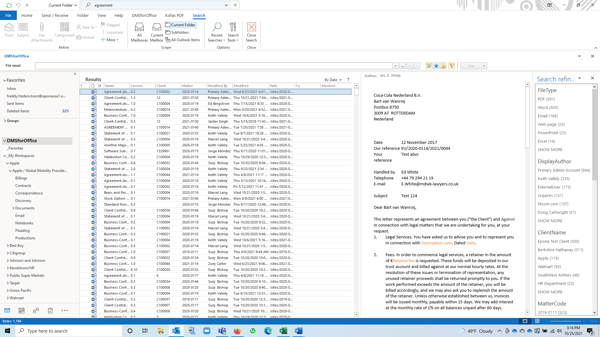 Whether appealing to your entire organization, or to a particular department or team, or as auxiliary storage or archive platform for your current DMS, an Epona SPO solution may just be the low-cost but robust solution your office has been looking for.
If you're interested in learning more or would like to see a live demonstration of using SPO as a document management system for your law firm or legal department, just reach out to Affinity here or by calling 877-676-5492.