Worldox Web 3.0 is a new way for users to remotely connect to Worldox for full access to your documents and email content saved through Worldox. No more do you need a separate way to connect to the office to access Worldox' content.
The Worldox Web 3.0 module comes with a fully redesigned Web Server Engine and User Interface. It includes the Worldox Web Integration Agent for Worldox Web 3.0 which provides popup integration on File>Open and File>Save operations for most applications with which GX4 currently integrates for when you're NOT in the office, but you do have an internet connection. Worldox Web 3.0 offers a simple and modern interface. Robust commands, such as Advanced Search, Direct Access, Categories, Projects (.wdl files), View, Upload, Download, Check Out, Check In, Edit Metadata, Add Comments, Copy, Move, Delete, and Version Control are all available. Users have automatic, real‐time accessibility to Favorite Matters, Favorite Files, Cabinets, Workspaces, Bookmarks, and Find Templates from any web browser.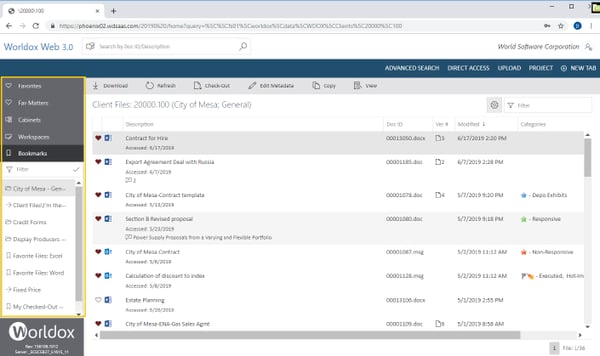 TREMENDOUS BENEFIT
Because many of us no longer work exclusively within the four walls of our office, the enhanced benefit of Worldox Web 3.0 provides complete access and high level functionality of Worldox to you when you're outside the office. Today, many people who are away from the office must first "connect" via a third party method such as remote desktop, Citrix, GoToMyPC, LogMeIn, Terminal Server login and the like. With Worldox Web 3.0, you simply open up the internet browser of your choice, log into Worldox Web 3.0 and you're off and running with access to all of your documents and saved emails, as well as the ability to upload new documents and new versions of documents. You may even opt to install Worldox' single-click functionality so that save and open functions call Worldox Web 3.0 giving you the true Worldox user experience almost like you were sitting within the 4 walls of your office.
ADDED BONUS
As another part of the Worldox Web 3 upgrade, Worldox also updated their mobile apps, so if you have Worldox Web 3, be sure to also download the new iOS app for the iPhone and iPad from the Apple App Store!
WORLDOX WEB 3.0 REQUIREMENTS
Ready to upgrade? Before getting started, you'll need to conference with your firm's leadership and I.T. group to be sure that the pre-requisites set forth below are in place and ready before upgrading to the latest Worldox code.
Worldox Web 3.0 offers access to your firm's documents from a browser. While Worldox Web 3.0 is the companion to GX4, you must use the most up-to-date code or higher to install Web 3.0.
Further, Worldox Web 3.0 requires the following infrastructure:
For the IIS Server, Windows Server 2012 R2 64-bit, 2016 64-bit and 2019 64-bit
Full time broadband Internet connection
Static IP address with a corresponding hostname
Windows 7 (SP1 64-bit is required) or 10 (64-bit is required) workstation to serve as a Worldox Proxy Server.
HOW DO I GET WORLDOX WEB 3.0?
Affinity is happy to help! As with all software implementations, planning and preparation is the key. Please contact our client engagement team by calling 877-676-5492, or request a consultation and ask that your firm be contacted. A member of our Document Management team will be in touch shortly to upgrade your firm to the latest Worldox code and set up your Worldox system for a successful deployment.