Mid-year, NetDocuments plans to release Collaboration Spaces* - taking external sharing to a whole new level.
With Collaboration Spaces, you can essentially share anything with anyone, anywhere.
Collaboration Spaces are created at the workspace level, under an upcoming 'Collaboration' tab on the workspace page. The Collaboration Spaces will allow for subfolders, providing a simple hierarchical organization to the shared content. Multiple Spaces can be created and shared with any number or combination of users and groups.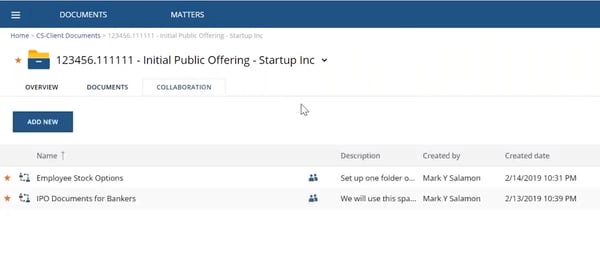 Internal users can easily search for and identify what has been shared. External users are given a simple, intuitive portal where they can see all the Collaboration Spaces that are shared with them. Administrative controls and reporting ensure everything that is shared is accounted for, and nothing is shared without admin approval.
In connection with these changes, a new group type will be created that will be used exclusively for Collaboration Spaces, giving administrators greater flexibility and control over external users. Collaboration Spaces will leverage the existing external user license type.
Users will be able to take Collaboration Space's content and download it to a zip file. A report can also be produced of all users (contacts) who have access to the Space.
Collaboration Spaces will eventually replace the current ShareSpace method. The best part is that Collaboration Spaces will be included in the base NetDocuments subscription – no add-on fee!
For more information about Collaboration Spaces, upcoming updates or any other feature of NetDocuments, just contact us at info@affinityconsulting.com, call us at 877-676-5492 or request a consultation.

*name and features are subject to change