Most lawyers do not have a digital client file that is complete with all emails and other documents, and the digital file is rarely in chronological order. These two shortfalls are the primary reasons why firms still maintain a paper file and an electronic file. Document management systems solve this problem.
Stated succinctly, a document management system is the ultimate electronic document and email filing and searching system which will allow a firm or legal department to easily create complete electronic matter files. Today, unlike 20 years ago, DMS systems are designed to store and retrieve not only what we think of as paper-based documents (PDFs & Word documents), but more importantly, emails and other native computer files. You can find anything at any time and get everyone in your office on the same page. It's one of the few technologies that dramatically improve your level of organization within your office. There is simply no better way to manage client files and find information.
The most significant advancements in this technology over the past few years that make it even more relevant are (1) the use of artificial intelligence (AI) to help save emails, and (2) the movement to cloud solutions, making security and client collaboration. Furthermore, cloud architecture makes mobility a cinch.
Saving E-Mail using Artificial Intelligence
NetDocuments' DMS has launched a pretty amazing new feature that uses AI to help lawyers do one of the most-hated and tedious document management tasks … saving client-related email! The feature is called ndMail. It is an optional add-on module that enhances the email filing experience from Microsoft Outlook by drastically reducing the time and effort required to save email messages into the client/matter folder.
Core to the application is the predictive email filing component which uses machine learning to determine which matter each email message in your inbox should be filed against based on the sender, recipient, subject and content from the actual message.
As a user highlights an email message in Outlook, the integrated ndMail panel will display suggested matters that it has determined may be appropriate for that email. They are listed in order based on the its "confidence" of fit. The user can then make the decision to accept, override or ignore the suggested destinations: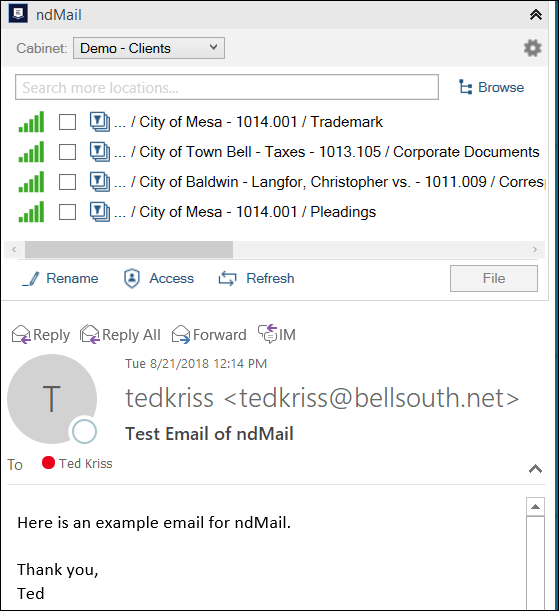 Most importantly, ndMail "learns" each time a user in your firm files an email with ndMail, which significantly increases the accuracy of suggested destinations over time across the entire firm.
ndMail also provides an email de-duplication service during the email saving process, as it reviews each message and instantly notifies the user if that email has already been saved into the system previously by anybody else at your firm.
This is extremely important since most people feel crushed by email. With all DMS systems (Worldox, iManage, OpenText & NetDocuments), all emails related to a particular matter can be easily saved along with the other matter-related documents. Important features include:
Ability to save emails with attachments embedded in the native email format from within Outlook without "exporting" them or saving them somewhere else before they're moved into the DMS.
Ability to save attachments separately into the DMS from a right-click save-as command or via drag and drop.
One-click saving - people will be doing this constantly, every day. The process can't be time consuming, tedious or have too many steps. A good DMS solution will have integration with Outlook by selecting an email and then simply clicking on a toolbar button to either copy or move the email into the DMS.
Matter Drop Folders in Outlook – ability to drag and drop emails into Outlook Inbox subfolders that will automatically deposit the email into the correct client matter folder in the DMS.
A DMS does much more than managing email. Here are some of the other key features:
Full Text and Boolean Logic Searching
Full text searching gives users wide-open access to their documents by framing searches based on concepts rather than categories. Users can search by many criteria - words, combinations of words, phrases, words within proximity of each other, expressions, etc. Each document matching the search terms is returned as a "hit" and the integrated file viewer will highlight each occurrence of a search term in the returned documents.
This is exactly like doing a Lexis or Westlaw-type search through your own documents. When evaluating DMSs, you want the ability to view the documents in a viewer without actually opening them, you want to be able to use Boolean logic terms (and, or, not, near, etc.), and you want the search terms highlighted in the document the system found. This is a screenshot from Worldox, one of the most popular legal document management systems in the U.S.:


Ability to OCR PDFs to make them Text Searchable
The DMS should be able to identify PDFs that are non-searchable and automatically OCR them to make them text searchable. This should happen on the back-end automatically so users do not have to waste time running the OCR process on every PDF they scan or receive via email.
Ability to Save and Manage Any Type of Document
The DMS must be able to hold any type of file you've created in-house as well as any type of scanned document (PDF, TIF or JPG) which will typically represent the documents you're received from the outside. A search must turn up all relevant documents regardless of physical location, format, and source application. For example, I have seen plenty of copier-based applications which only hold documents you scan. It does little good to have scanned documents in one system and all of the documents you've created in-house in another system. The idea is to get everything related to a matter in the same system, including documents you've created in-house, documents you've scanned, faxes, hand-written notes, email and attachments to email.
Integration with Other Programs You Already Use
In order to be convenient to use and force user compliance, the DMS must integrate with Word, Acrobat (or pdfDocs, Nuance PowerPDF, Foxit, etc), Excel and any other program in which you save documents or files. When someone clicks the Save or Open button in Word, the DMS must intercede and ask the user to "profile" or save the document, or find the document within the DMS.
Security
Document security places the DMS at the focal point of access and permission to the document repository. Document security involves documents, users, and groups of users. The DMS must give the saver of the document the ability to assign rights and permissions to documents based on individual users, groups of users, and the roles in which users serve within the organization. For example, documents saved in the administrative cabinet would likely not be available to all users. Those documents can be secured by user, user group or by role. You would also have the ability to secure an individual document that otherwise would be available to everyone.
Version Tracking
The DMS must be able to keep multiple versions of every document. This becomes very important when a document is undergoing revision and is being passed back and forth between attorneys. Most DMSs will keep limitless versions of every document along with a detailed audit trail noting who did what to the file and when. Once saved, whenever that document appears in a search result or list, the DMS indicates that there are multiple versions available of that document, as seen here:


Audit Trail
The DMS must be able to keep automatically audit all transactions related to a file saved within the system so it is easy to determine with files were first created, see everyone who touched it, and determine things like when files were copied, printed, emailed or deleted from the system.
Collaboration with Clients
Systems like NetDocuments have collaboration tools built-in because they are designed using pure cloud architecture. In other words, you don't need to buy an add-on product like Citrix ShareFile in order to create a place to share documents with clients. This is a screenshot taken from NetDocuments, showing this feature, which they call Collaboration or Share Spaces: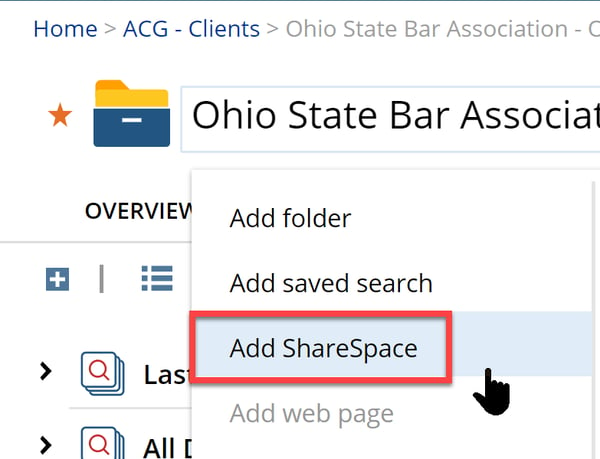 Remote Access/Offline Access
The DMS must be accessible when you're not in the office. Most DMSs have this capability natively, or as an add-on module. Regardless, you want access from a browser or and app on your iPhone, Android-based phone or tablet.
Document Management Main Players
I've listed below the main players in the legal market, but there are many other options.
Need help choosing and implementing a document management system (DMS) for your firm? Contact us at info@affinityconsulting.com or request a consultation.