One of the settings you can customize in your Amicus Attorney PE software is the Home Default View – what image you want to have displayed when you launch the program. Some Amicus users prefer the "Amicus Home" view, which includes clickable features (e.g. calendar, sticky notes, emails) for instant record access. Others prefer having a picture (like wallpaper on a desktop), and can select from the Amicus defaults or upload a personal image.
In the past, either option would have been fine for using Amicus Attorney PE, and would be left to the personal preference of the user. However, the popular "Amicus Home" view is now turning out to be the culprit for firms who have upgraded to Windows 10. Several instances have occurred where Amicus Firm Member A (who has Windows 10) tries to "Open Another Office" for Amicus Firm Member B (who has "Amicus Home" view set as the default), and causes the software to crash. This is because the "Amicus Home" view is a dynamic view (clickable features), and Windows 10 is programmed to work best with Amicus when every user has their Amicus Home Default View set as a static view (image).
Abacus Data Systems has confirmed that the "Amicus Home" view directly causes performance issues in Windows 10. Unfortunately, the update patch to resolve this bug will not be released until 2017. As a temporary work-around, if ANYONE at your firm uses Windows 10, the safest way to use Amicus Attorney PE is to have every user select a static view as the Home Default View (i.e. not "Amicus Home").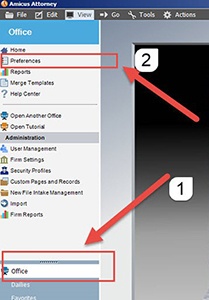 Here is how to confirm that setting:
1. Open up the Amicus Attorney PE software.
2. Click on "Office" on the left hand side of the program, then select "Preferences" on top.
3. Under the "My Application" section, click on "Defaults on Login."
4. In the middle of the Preferences window, there is a drop-down menu that says "Home Default View." This is where you go to change your Amicus home background to a "static" image. Select a default image you like the best (or upload your own image), and click on the "Apply" button, then click "OK."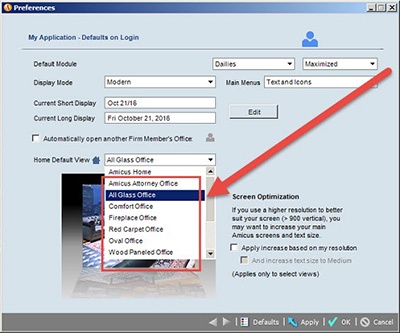 Do you need help with Amicus Attorney? Let us help. Click HERE to schedule a call with an Affinity Consultant.