NetDocuments, the #1 trusted cloud platform where legal professionals do their best work, announced the winners of their Inspire 2022 Partner Awards.
NetDocuments' third annual Partner Awards recognize leading companies spanning the ISV network, implementation providers, international partner companies in Asia Pacific, EMEA, and Latin America, as well as partners across all NetDocuments business segments.
At this year's event, Affinity was honored to receive an award that reflects the dedication and hard work of our consulting teams as well as the fruitful partnership we've forged with NetDocuments over the years: 2022 Implementation Partner of the Year.
"We are truly honored to receive this award as a testament to the hard work and commitment that our consultants, project managers and data engineers bring to each NetDocuments implementation project," says Gregory Bray, Affinity's Director of Documents Management. "We have always set the bar extremely high for our project teams, and to receive this acknowledgment from NetDocuments is wonderful.
"This is especially significant considering that we work with clients of all sizes and types - from solo law firms to large firms, corporations, government departments, education institutions and corporate legal teams.
"So, of course I'd like to send a huge thank you to our customers for providing us with such a great satisfaction rating, and to all those across our company who help to delight our clients on their NetDocuments journey, and of course to NetDocuments themselves for providing us with such an inspiring product to work with, and for being a true partner of Affinity."
Inspire 2022 is a global conference attended by NetDocuments customers and partners. Here, tailored product and educational sessions; customer and partner case studies and best practices; hands-on workshops, and subject matter expertise delivered by more than 40 speakers are on display.
"The NetDocuments partner ecosystem is an integral part of our business and ability to deliver enduring value to our customers," said Reza Parsia, VP, Strategic Partnerships, NetDocuments. "Our partners work tirelessly to ensure our mutual customers are able to deliver better service and continually innovate. This 'will do' attitude and relentless commitment to the success of our customers is what our 'Partners of the Year' winners prove on a daily basis."
To learn more about Inspire, visit netdocuments.com/inspire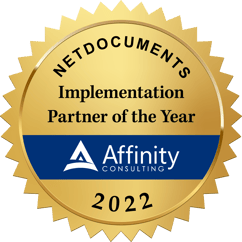 About Affinity Consulting Group
Affinity Consulting Group works with law firms and legal departments on strategy and technology engagements that help them create a great place to work and deliver excellent services to clients by improving how work gets done, and aligning their stakeholders, while focusing on profitability. For more information, visit www.affinityconsulting.com.
About NetDocuments
NetDocuments, the most trusted cloud-based content management and productivity platform that helps legal professionals do their best work. Backed by over 20 years of experience in cloud innovation, NetDocuments supports 3,700+ law firms, corporate legal departments, and public sector entities with solutions that drive better user experiences and business outcomes. NetDocuments offers a complete end-to-end platform for document and email organization and management, including award-winning security and research capabilities; robust automation, collaboration, and search technologies; seamless integrations with other tools professionals use daily; and much more. Learn more about NetDocuments.