With increased paper-less work and ever-increasing file sizes, the amount of available and used storage space is more relevant than ever to your business. Planning and budgeting for digital data storage is critical.
You can calculate your current storage usage in NetDocuments on a per-cabinet basis by going to the cabinet administration page. Locate the "Cabinet storage" field towards the top of the page.
The storage amount listed is not calculated automatically. The field will show a "snapshot" of the storage usage amount as of the most recent time it was calculated.
Click "Details" to show the three most recent snapshots and when they were calculated. These totals include a 10% overhead to account for lookup tables, user groups, other metadata, etc. Deleted items are also included in the storage total.
Click "Recalculate" to view the current usage amount.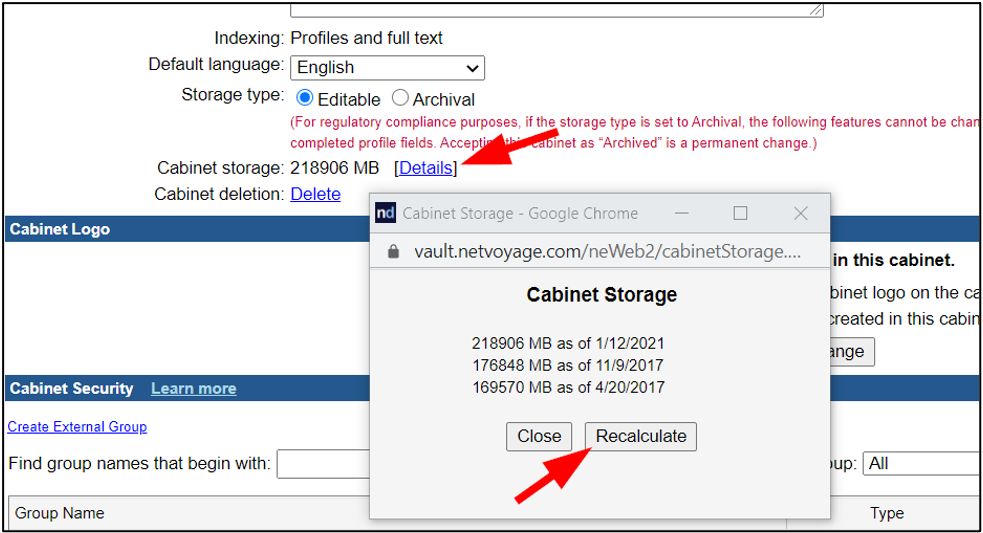 Note that the storage calculation will be displayed in megabytes (MB) although NetDocuments allocates and prices the space by gigabyte (GB).
The 'base' storage amount in NetDocuments is 20GB per user. So, a firm that purchases 100 user licenses would have 2000 GB of available space. Organizations that purchase ndMail or ndOCR are allotted an additional 10GB/user for each product. Additional storage can be purchased for $1 per GB per user.
There is currently not a way within the NetDocuments admin console to view the exact amount of available storage space. Contact NetDocuments to verify your purchased storage amount to compare to your current usage amount.
For those organizations that wish to use ndMirror to calculate their storage usage, be aware that depending on how you have it configured, ndMirror might not give you an accurate calculation of the actual storage amount.To learn more go to the NetDocs' ndMirror support article.
If you are nearing or have exceeded your storage limit, contact Affinity Consulting to have us assist you with your document clean-up or retention needs. Just contact the Document Management Team at Affinity by calling 877-676-5492, or simply request a consultation.