Quick Profiles are save-templates that you can store and use for future saving that will automatically fill-in the desired fields for quicker saving. It is very useful if you find yourself saving a document with similar profile information on a regular basis. For example, you constantly save pleadings or correspondence into a very active litigation matter.
To create a quick profile, open a new Word document and hit Save or Save As. Worldox responds by opening a File Save profile form. Next, click Quick Profiles Tab and select the + (Add) button.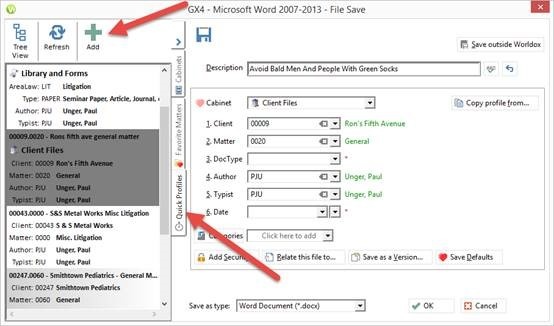 Fill in the desired profile information (i.e., client, matter, doctype, author, etc.). Then name the quick profile in the Quick Profile Name field and save.
If you'd like assistance with Quick Profiles or any other feature in Worldox, just let us know. You can always reach us at info@affinityconsulting.com or request a consultation.