I call this feature NetDocument's "Amazon shopping filter." You know when you are shopping for shoes online, and your initial search is for "men's shoes," but you get too many results? Along the left-hand side of the screen, you can check boxes that allow you to limit your search by "casual" and then "medium width," and then perhaps "blue or grey." It looks something like this: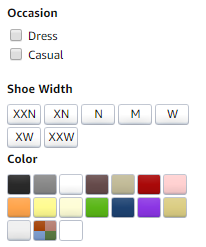 NetDocuments has a similar feature that they call Faceted Search Results, and it is located on the left-hand side of the screen in advanced search result. This will help you narrow a large number of hits to something more manageable. While this feature has been around a long time when we poll NetDocs users, just less than 30% of people know about it or know how to use this feature!
Here is how it works: Let's say you are searching for a letter within a matter, and you know that it was a Word document drafted by the user - PJU. You can narrow your displayed results by clicking on the DocType category (see below) and selecting the Author, then the desired author. You will see your results narrow in real-time.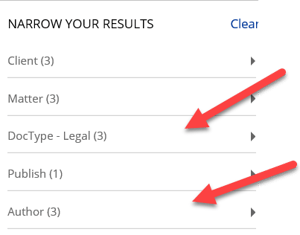 If you'd like assistance with filtering or any other feature in NetDocuments, just let us know. You can always reach us at info@affinityconsulting.com or request a consultation.