Tasks are now part of the latest update - at NO ADDITIONAL COST! If you are interested in following up on documents for review, expiration, or any reason, you don't want to overlook this update!
Setting Up Tasks related to Documents
The Task feature combines the functionality of Worldox and Outlook to allow you to select a document and create a task. This is incredibly helpful to do things like (1) reminding you when a contract expires, (2) letting you know when you must review & revise a document or policy, or (3) prompting you to prepare and re-file a UCC Statement. Here is how:
Find the document in Worldox > Right-click > Select Task > Create. You can also select multiple files. If you select more than one, Worldox asks you to confirm your selection in the Clarify Selection dialog. If you see this dialog, choose the appropriate option and click Continue. You will get the following dialog to set up your task.


Enter the desired

Description

for the title of the task, set the

Due Date

(optional) and

Remind Me

(optional) and click

Ok

. Worldox will now send that task to Outlook for you to finalize and save. Here, you can add in additional functionality like Assigning a Task, adding a Priority, etc. When you are finished, the task will be added to your Outlook tasks.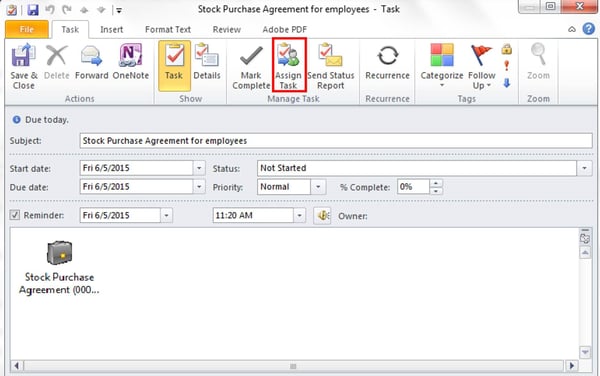 There are a few pretty awesome things about this functionality that we want to highlight. First, notice that the Worldox document link is added as an attachment to the task. When you open the task, all you have to do to get to the document is double-click. Second, if you set a reminder, Outlook will prompt you when it becomes due. Third, Worldox takes advantage of the maturity and power of Outlook to manage tasks.
Questions about the Worldox GX4 update or using tasks and workflows in your firm or legal department, just ask! Please contact Affinity's Document Management Team by calling 877-676-5492, or request a consultation and we'll be happy to help.