Without a doubt, the hottest topic across the Worldox community over the last few months has been the addition of the new Worldox Web 3 module, which was officially launched at the end of October. We have received numerous requests for more information – and rightly so! It's an amazing add-on to Worldox and is included in your current Worldox Professional maintenance subscription at no additional cost from World Software.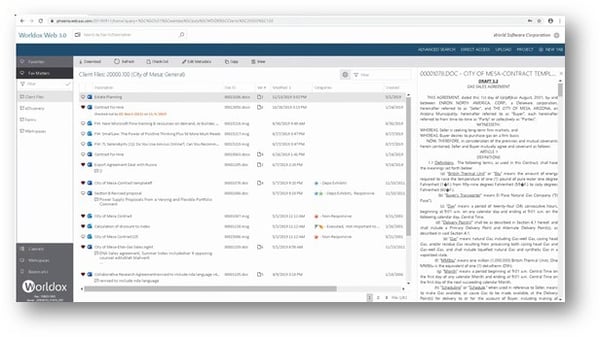 How can I get a sneak peek of it?
Screenshots like the one above really don't tell the whole story. Worldox Web 3 is incredibly functional, with right-click menus and user customization similar to the traditional Worldox Pro program. It also provides for lightning-fast previews of our your documents, and even includes integration with your local desktop!
So, to tell the whole story we're offering a webinar on Wednesday, November 20th at 1pm EST for all of our Worldox clients to come have a look and ask us questions. Even if you can't make it to the webinar, I would recommend you sign up anyway, as we'll send you a recap video that you can watch at your leisure. Just click to sign up!
What do I need?
You will need Worldox GX4 professional and IIS (internet information server) installed on your file server in order to run Worldox Web 3. The technical requirements for the system are as follows:
64-bit Windows Server 2012 R2 or higher running IIS
Full-time broadband Internet connection
Static IP address with a corresponding hostname
TCP Port 443 needs to be open for incoming to the Primary Server. Have your SSL certificate available prior to beginning the installation process. (If you are not using SSL, this would be port 80, but of course this is not recommended unless you require the launch of a VPN prior to accessing Worldox Web 3.0 or the iOS app.)
TCP Port 5008 and 5001 need to be open for incoming to the Primary Server from the Proxy Server.
Windows 10 (x64 required) workstation or virtual machine to serve as a Worldox Proxy Server. That machine should be a quad core CPU and have at least 8 GB of RAM.
If you have further technical questions, I would highly recommend you sign up for our webinar. I'm sure there will be plenty of questions related to this.
How do I get it?
Worldox Web 3 will need to be installed and configured by a certified Worldox reseller. This is not a "DIY" configuration, nor something you can contact Word Software technical support to assist you with. You will need to work through Affinity to have this module installed and configured.
If you'd like to more information, you can email our team and request a proposal or request a consultation. You'll receive a project estimate detailing the time and cost involved to setup Worldox Web 3, which will include:
An update of your current Worldox Gx4 system to the latest WDU15 code release
Setup of your new primary and proxy Worldox Web servers
A remote training session for your users on how to use it
An overview session for your Worldox Administrator or IT Team on how to support and maintain the web services.
We look forward to showing you the system and answering more of your questions during next week's webinar.
If you have questions about Worldox or the upcoming webinar, please contact Affinity's Document Management Team by calling 877-676-5492, or request a consultation and we'll be happy to help.